Profile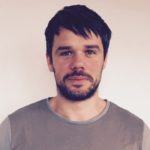 Tom Hodgkinson
Curriculum Vitae
Education:

Alsager School (Stoke-on-Trent, UK), Durham University- undergraduate; Leeds University- Masters; University of Manchester- PhD

Qualifications:

BSc(Hons) Biology, MSc (Dist.) Bioscience, PhD Tissue Engineering

Work History:

University of Manchester, University of Glasgow, Royal College of Surgeons in Ireland

Current Job:

Post Doctoral Research Associate

Employer:

Tissue Engineering Research Group at the Royal College of Surgeons in Ireland
About Me: I live in Dublin with my wife. I love eating Japanese food, going to the pub with friends, watching films at the cinema and going to see bands play. I'm a long suffering Stoke City FC supporter and love to play 6-a-side football.

My Work: My work looks for new ways to help bone and cartilage heal itself after an injury or in old age. We use special body cells, called stem cells, that are great at healing and are able to form different types of tissue in your body. We put these stem cells into scaffolding we engineer, which protects the cells and teaches them how we want them to behave to repair the damaged tissue.

Read more

Certain types of bone and cartilage injury are difficult for the body to heal naturally. In these cases, we aim to give the body a helping hand using a technique called tissue engineering. This usually combines special, super-healing cells and instructive materials, or scaffolds, that control cell behaviour in the body.

In our lab, we look at what combinations of cells and materials work best for healing bone and cartilage. One way we can do this is by engineering different types of scaffolds that are made of different building blocks (molecules) or have different material properties (like stiffness). By changing these building blocks or properties we can prod cells to behave in different ways. Another way is to use our scaffold materials to deliver different medicines or even genes to the cells (the genes turned on in a cell's DNA control how the cell behaves). The big questions are- what type of scaffold material and what type of properties will cause our cells to heal injuries quickly and correctly?

Day-to-day working at the crossroads of biology and engineering in this way means my work is really variable. For example, I can growing human cells into three dimensional pieces of bone or cartilage, testing the mechanical properties of scaffolds or investigating what happens when we stop cells from turning on certain genes.

My Typical Day: I get to the University for 9am and usually it is straight into the lab to look after the cells we have growing or to do a morning of experiments. Depending on the day, we can have a few meetings to explain to each other what we have found out over the last week. I have lunch with friends and then it is either back to the lab or to the office to look at the data I have collected.

What I'd do with the money: I would organise school activities and science workshops as part of the RCSI REACH program, which targets improving engagement with school children traditionally underrepresented at University level.
My Interview

How would you describe yourself in 3 words?

Curious, persistent, creative

What's the best thing you've done in your career?

Visited places all over the world to give presentations about my research

What or who inspired you to follow your career?

The lab experience I had as a Master's student

What was your favourite subject at school?

Biology

What did you want to be after you left school?

I had no idea

Were you ever in trouble at school?

Only for being cheeky

If you weren't doing this job, what would you choose instead?

Something in conservation/ renewable energy

Who is your favourite singer or band?

Rage Against The Machine

What's your favourite food?

North Staffordshire Oatcakes

What is the most fun thing you've done?

Cayonning in South Africa

If you had 3 wishes for yourself what would they be? - be honest!

To be able to stop time when I pleased, to invent a cure for osteoarthritis and (of course) for Stoke City to win the Champions League.

Tell us a joke.

How does the moon cut his hair? Eclipse it!
---
---