Profile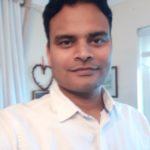 Sanjeev Kumar
Curriculum Vitae
Education:

masters (by Research) degree in electronics engineering from "The LNM Institute of Information Technology" Jaipur, India.

Qualifications:

Masters (by research) in electronics engineering

Work History:

RF Engineer, Assistant professor

Current Job:

PhD researcher at Tyndall national Institute, University College Cork, Ireland.

Employer:

Tyndall National Institute, University College Cork, Ireland.
About Me: An emotional and motivated person.

Read more

I am an Indian citizen and moved to Ireland in 2017 to pursue my PhD in electronics engineering from University College Cork, Ireland.

I love playing Chess, badminton and cricket. In my spare time, I enjoy reading books, and watching sports, movies and Friends episodes. Also, I can cook several delicious Indian cuisine.

It's been 3 years now I am living in Ireland. Here I have made many friends from various nationalities. It feels great to interact with people with different cultures, traditions and beliefs. I must say that people here in Ireland are very welcoming, humble and supportive. I have become a big fan of Irish culture now.

My Work: My research is focused on the design of a compact on-body device that can be used for patients' wireless health monitoring in hospitals.

Read more

An antenna is an electrical device which converts electric energy into radio (electromagnetic) waves and vice-versa. The electromagnetic fields exist almost everywhere (see the Figure below), but we cannot see it with our bare eyes.

For any type of wireless communication, an antenna is a key requirement. For example, in all the mobile phones have different types of antennas for Bluetooth, Wi-Fi, etc.

I work on the design of compact antennas that can be fit in a wristwatch. Recently, we have developed a wristwatch-integrated antenna for wirelessly monitoring blood oxygen level and heart rate of patients.

My Typical Day: I get up at 7:00 in the morning. Then I get ready and reach the university around 9:30 am. My research work mainly includes reading research articles, computer-based simulations, lab experiments and analysis of the results. I try to get back home by 7:00 pm, and then I cook something to eat...!

What I'd do with the money: I would like to provide some hardware to schools that will help students to understand the basics of wireless communication

Read more

I always find the phenomenon of electromagnetic waves propagation fascinating and would love to make the students familiar with this…!

Today, the majority of mobile phones have an integrated near field communication (NFC) antenna. Some of the applications of NFC include wireless transactions using a mobile phone or contactless payment at a shopping centre. These NFC antennas work on the principle of electromagnetic (inductive) coupling.

If I were to win this competition, I would prefer to use the prize money to develop a hardware-based kit to demonstrate the phenomenon of inductive coupling. The hardware kit will require some of the electronic components, such as a function generator, some LEDs, copper coils etc.

The same kit can also help the students to understand the fundamentals of wireless communication. Moreover, I may make myself available to prepare instructions for the experiments and will be happy to help the students.
My Interview

How would you describe yourself in 3 words?

Honest, Hard worker and sociable

What's the best thing you've done in your career?

Developed an antenna that was successfully implemented for wireless health monitoring of patients in a clinical setting

What or who inspired you to follow your career?

My science teacher

What was your favourite subject at school?

science

What did you want to be after you left school?

An engineer

Were you ever in trouble at school?

Yes..on several occasions; mostly for chatting too much with my friends..!

If you weren't doing this job, what would you choose instead?

A science teacher.

Who is your favourite singer or band?

Arijit Singh, an Indian singer

What's your favourite food?

Chicken Biryani

What is the most fun thing you've done?

During my undergraduate studies, I was elected as the president of the Electronics engineering branch. For the election, I had to convince the students to vote for me. That was a great fun and a nice experience that I will always cherish..!

If you had 3 wishes for yourself what would they be? - be honest!

(1) Be rich enough to help people in need, (2) Learn things faster, and (c) I wish I could represent my country in sports (especially, Cricket)

Tell us a joke.

Student: What should I do when no one laughs at my chemistry jokes? Teacher: Keep trying until you get a reaction..!
---
---